A Mess Free Life may collect a share of sales or other compensation from the links on this page.
The holidays are fast approaching. If you're having any company at your home over Christmas, you'll want to make sure you're ready by getting your home ready for the holidays.
To have the best holiday you can have, free from stress and worry, now's the time to start thinking about getting your home ready for the holidays. You don't want to be pushing clutter to the side to make room for the Christmas Tree or for the big feast,  nor do you want to be stepping over clutter when the guests arrive.
You want to make the best impression for family and friends and for you too! I understand how important it is to feel proud of your home. And the best way to accomplish this and get that "I'm so happy my home looks great!" feeling is to get your home ready for the holidays so you can throw open the doors and welcome your guests free from worry!
Are you excited to get your home ready for the holidays?
How To Get Your Home Ready For The Holidays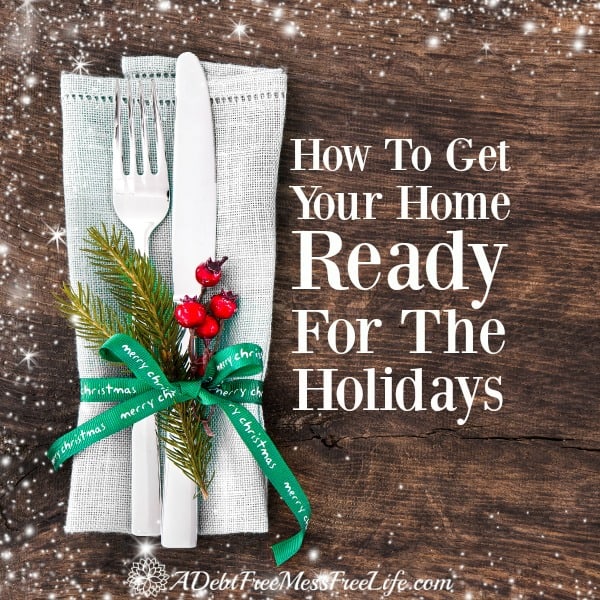 Declutter and Clean
Clutter is a bummer for anyone who has to look at it, deal with it or figure out a way to get rid of it.
If your home is cluttered, first know you can do something about it, but you need to act as soon as possible. Watch this short video about clutter to learn more.

 Declutter
Most homes have too much stuff.
The draw of commercialism entices us to go out and buy things we don't need and end up not wanting.  In the end, you have a house filled to the brim of things that are taking up precious space.
The beauty of owning and keeping less stuff is a calmer living environment filled with only the things you love and use regularly.
When you own less stuff you have more time and energy to live your life fully, you have more money in the bank and a better perspective on what's important.
Clutter tends to block all of those things and instead leave you drowning in your emotional baggage.
That's what clutter is – the manifestation of your emotional baggage.
If you're just getting started, you don't need to turn into a minimalist overnight. I made that mistake once and ended up getting rid of things I needed. Take the time to think what you'll get rid of and what you'll keep.
Here're a few things to throw away or give away as you get your home ready for the holidays:
Junk mail
Broken toys
Toys with missing pieces
Knick knacks you don't like or hate to dust
Coffee mugs you never use
Plastic containers that are missing the covers
Expired medication
Magazines
Newspapers
Clothes that haven't been worn in 18 months
Old makeup and toiletries you no longer use or don't like
Broken kitchen equipment
Anything that's broken
Old shoes that are worn out or don't fit
Expired food
Old manuals
Books you've already read
Greeting cards that have no sentimental value
Cables and wires you don't use
The list is endless, and only you can decide what to keep and what to toss or donate.
So it's time to get rid of your baggage and clear the clutter. Let's get started!
Three Rounds and You're Done!

You're going to declutter in three rounds:
Round 1 – You'll toss items that need to be trashed
Round 2 – You'll put items into boxes for donation
Round 3 – You'll put items aside that have some value, and you'd like to sell.
Start with what you want to throw away. That's usually the easiest.
Go room by room and put into the trash bag all the stuff you want to throw away. As you pick up an object, think about the last time you used it, whether you truly love it and how hard it would be to replace it down the road if you change your mind. If you hate it, don't want it, or it's broken, toss it into the trash bag.
Once you've complete Round 1, you'll go back with a box to start Round 2  and begin to box up the things that you're ready to part with but would like to give away. Again, you'll ask yourself how much you love something, and how hard it would be to replace the object down the road.
Finally, in Round 3, you'll box up what you want to sell at either your next yard sale or on a yard sellers site.
Whew! The house is finally decluttered! Excellent job! Now it's time to get out the cleaning supplies and start cleaning.
Related:  Fall Cleaning Checklist
Deep Clean Now To Get Your Home Ready For the Holidays
In all the years I've owned a cleaning company, the one thing that always shocked me was how some people treated their homes.
Your home is one of your most expensive investments and as such, it would behoove most to take care of it. But that's not always the case. Some homes are disrespected, and this disrespect shows up in the way of clutter and dirtiness.
There's no better way to truly appreciate your home than to take care of it. Now is a great time to show your home the love it deserves by cleaning it and bringing it back to its original glory, or at least as close to it as possible.
That's the aim here right? A clean and clutter free home ready for the holidays!
What Goes Into A Deep Clean?
A deep clean includes all the items you don't do on a regular basis. It means wiping down baseboards, cleaning behind and under furniture, washing windows, cleaning out the oven, scheduling your upholstery, blinds and window treatments for cleaning and much more.
Maintain
I often get asked how I keep my home neat with pets, an elderly parent, and the many people who come daily to care for her.  The key is that I clean up every single night before bed. I put things back where they belong, wipe down the counters and vacuum/mop any areas that need it. I expect the woman who cares for my mom to clean up after themselves and to leave an area as they found it.
Because I do this daily, I wake up every day to a clean home.
Cleaning and decluttering is not the most enjoyable aspects of preparing for Christmas, but by getting them out-of-the-way early, you'll leave plenty of time for the stuff you truly enjoy.
Start now, and by Thanksgiving, your home will be ready for the holidays and you'll be proud to open your doors to friends and family.