A Mess Free Life may collect a share of sales or other compensation from the links on this page.
Are you the type of parent that would rather just do it yourself rather than take the time required to teaching your kids to clean? I get it. I used to be that parent. I did a terrible job teaching my daughter how to clean and as such she struggles today with housework. She's not an outright slob, but let's say her standards and mine aren't even close to being on the same page. The struggle is real when it comes to teaching children to clean.
But what I've learned over the years is what a mistake that type of thinking was. Not only didn't I teach her how to clean correctly, but I missed a great opportunity to instill in her other valuable lessons that cleaning provides. Sure, she learned these benefits in other ways, but learning them through the act of cleaning and household management was a missed opportunity.
Fast forward, and today I've taken it upon myself to teach my grandson how to clean, so I don't create another person in my family who struggles in this area.
Related:  Housekeeping Tips for The Domestically Challenged
8 Benefits of Teaching Children To Clean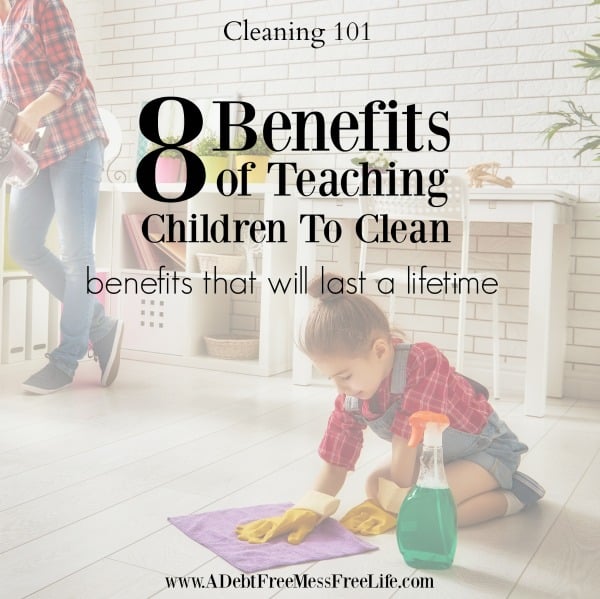 They Contribute To The Household
They sleep in their beds, shower in the tub, eat food and engage in activities. Why then should they be given a pass to refrain from contributing to keeping the house in order? By expecting them to contribute to the household, you're sending a clear message that not only are they supposed to clean but that it's part of what makes the family work. Working together towards common goals helps kids connect with the family.
Related:  No More Excuses: How To Get Your Family On Board With Cleaning!
They Learn Skills They'll Use The Rest Of Their Lives
I remember the day I got a call from my daughter who was away at school asking me to explain how to get the streaks off the mirror. It seems she was using the wrong product and I had to walk her through the process. I realized at that moment how many more calls I was going to get until I had covered all the bases I had missed.
The home is the perfect place to teach your child skills they'll use throughout their life. Better they learn them now than having to call you a million times for step by step directions or worse, having to figure these things out as an adult.
Related:  9 Ways You're Making House Cleaning Harder Than It Has To Be
They Learn To Be Responsible
Responsibility is a critical skill to teach. Every day we see kids who have grown up without being taught the value of personal responsibility. It's not great to witness. It's valuable to teach children that they are expected to do something, and that other's are counting on them to follow through. When they understand this, they are more likely to get the job done.
Related:  What Ever Happened To Personal Responsibility?
They Learn The Value of Work
Nobody LOVES to work, but over time you learn the importance of working by participating in the activity. You not only teach them the value of work but how to be a good worker and that's another lesson that has been lost along the way. Teach your child this skill when they are young, and they will stand out from their peers when they get older.
They Appreciate
Cleaning up teaches a child to appreciate the effort that goes into doing a job. It also teaches them to care for what they own by cleaning, maintaining or putting it away where it belongs.
They Learn To Value Their Environment and Home
When you teach your child to clean you're also teaching them to value where they live. You teach them to demonstrate respect for the people they live with by tidying up after themselves. They learn to acknowledge that others must share the same space, and therefore we show respect to them and ourselves by cleaning.
Related:  The Only Way To Teach Your Kids To Clean
They Learn To Value Order
Clutter leads to frustration to almost anyone who has to deal with it. Why? Because in a cluttered environment, you can't find what you're looking for. When you teach your kids to clean you're teaching them order and all the benefits associated with an organized environment.
They Learn Natural Consequences
If you're always cleaning up after you child, particularly after the age of three, they're not learning natural consequences. They think, 'I can make a mess, and someone will always clean it up.'
How To Put This Into Action
Provide The Right Space To Begin With
Provide your child with an organized and well-maintained space. If a room is cluttered and disorganized, to begin with it provides little motivation or encouragement for the child to clean, not to mention it becomes overwhelming.
Be Consistent With Expectations
The reasons kids are successful at cleaning up at school is because it's expected of them. There is a particular time of the day devoted to cleaning and putting things away. At home, children need to know what the boundaries are if they need to clean up after each activity, at the end of the day, if they can leave their things out, or what needs to be packed up. Kids need to know what the expectations are so they can meet them.
Be A Good Role Model
It's kind of hard to expect a child to clean up after them if we don't clean up too. I mean what would the motivation be for them? Kids like to copy what their parents do. If you want to teach your child to respect their environment, you'll need to role model the behavior.
Related:  Learn To Love Cleaning When You Suck At Cleaning
Clean Together
Children, if overwhelmed, will have a hard time cleaning alone. Work together with your child to complete tasks, especially when they are young or when you're trying to teach them a new cleaning skill. It's unrealistic to expect a pre-teen whose never cleaned the shower to do it without any instruction at all. Plus working together is more fun.
Start Them Young
I've witnessed this first hand with my grandson who is 20 months. At a year old he wanted to use the Swiffer and loved to vacuum, albeit poorly. But it instilled in him the desire to clean and now participates in small tasks without having to fight with him to accomplish the task. He likes to vacuum so much I bought him his own little machine this Christmas. If you make it routine from an early age, cleaning up is not such a big deal.
Don't Insist On Perfection
Insisting on perfection is a recipe for disaster. First, as they grow and learn the art of cleaning their skill level will naturally improve. If you're giving them tasks that are age appropriate, then you'll also reduce the frustrations for both you and them. Don't nit-pick them on technique, just let them have a try at it and then show them some tips that can help them do it even better next time. Make sure you always praise them and acknowledge their efforts, or they won't want to clean at all.
By understanding these eight benefits to teaching your children to clean you clearly see what valuable skills you teach your kids. Through cleaning not only are they learning skills that will carry them forward into adulthood, but they won't end up slobs either!
Got any great tips you've used to teach your children to clean? I'd love to know!