A Mess Free Life may collect a share of sales or other compensation from the links on this page.
Think you can't build your savings if you live paycheck to paycheck or don't have a nickel to spare? Depending on your personality, these strategies can help put your saving on autopilot so you can finally create an emergency fund.
Back in the days when I was flat broke, saving wasn't high on the priority list. Frankly, I was trying to keep my head above water and prevent the bank from taking my home via foreclosure. It was a stressful time made more stressful because I didn't have anything saved.
I was caught in a catch 22 of sorts.
Within seconds of earning money, it was already allocated to the many bills I had to pay and the people I owed.
Then one day a friend sat down and explained the value in developing a saving strategy, so I was always putting money aside. At first, I was open to the concept, but then fear and doubt started to creep in, and I wasn't so sure. I wanted to be able to save money, but I couldn't see how it was possible when every dollar I made was needed to pay bills.
If only I knew then what I know now.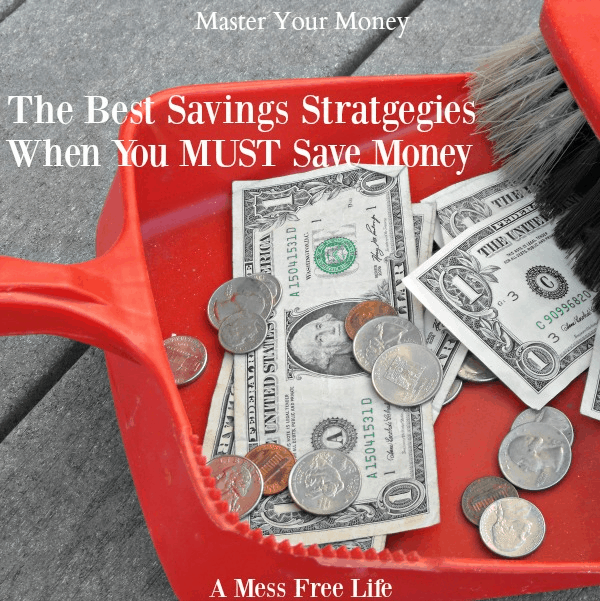 THE BEST SAVING STRATEGIES
Saving money is possible, no matter your income. You just have to learn the right saving strategies and follow a system.
Read More:  The Joy of Saving
The 6 Steps To Saving As A Means Of Getting Out Of Debt
9 Easy Ways To Save $1,000 A Month
Your emergency account should cover anywhere from 3 – 6 months worth of living expenses or more. But initially, that number sounds completely out of reach for most us just starting out. That's why your first goal will be to save $1,000.
An emergency account of $1,000 ensures you have enough money saved for unexpected expenses like car repairs, replacing the water heater, a trip of urgency to visit your sick mom and the like. This account also makes sure you are not using credit to handle these emergencies because you have the cash on hand.
SAVINGS AND YOUR PERSONALITY
Depending on your personality you'll likely motivate to save or not motivated to save. The question becomes: Do different types of saving strategies apply based on your personality?
The Goal Setter
If you love to set goals and watch your progress towards achieving that goal, then you're saving strategy will involve setting up an account and automating deposits each month. This way you can log in and watch your savings account grow and feel the accomplishment and reward of saving money.
By automating your deposits, you won't miss the money leaving your account. You'll get used to budgeting without that money and instead will be 'paying yourself first' thus ensuring you have the money you need on hand when life throws you a curve ball, and you have an unexpected expense.
Eventually, as your financial situation starts to improve you can continue to use this system for all your saving goals whether it be saving for a down payment on a house, saving for college, or saving for that family vacation.
No matter what you're saving for, automating it will be the way you'll want to go.
One way to automate that I recommend is using DIGIT. This free service (they'll be switching up to a paid service in a few months) takes the guesswork out of saving. You connect your bank account – it's totally secure to the online service. Digit analyzes your income and spending habits and sets aside an amount daily into a FDIC insured Digit Savings account. I've been using Digit since February 14th, 2017 and I already have $178.78 saved by doing nothing than my general spending. That's above and beyond what I typically save.
I think if you're someone who needs automation, DIGIT is an excellent service to use. You can withdraw your money from DIGIT at any time with no fees or limits.
Nervous Nellie's
If you're the type of person who hates risk but wants to save, then you'll also benefit from an automated system. However, you'll want to save using an online savings account rather than a brick and mortar saving strategy primarily because you're looking for the biggest interest rate you can find.
DIGIT is one alternative as is companies like Capital One.
Lazy Savers
The lazy saver, the person who never wants to think about their future is perfect for the automated saving strategies for both saving and investing. Putting just a little bit away each month or pay period, even as little as $5 is perfect for this personality type. A year later when they see what they've saved, it will motivate them to continue on this pain-free process of tucking money aside for a rainy day.
The Gambler
You're the high-risk person who could lose everything to some scheme that ends up dropping your entire investment down the toilet. Creating automated saving strategies that ensure you're saving money AND is out of reach or hard to get too, plus putting aside some money for your more risky endeavors kills two birds with one stone and keeps you from losing everything.
If you're on board with the concept of automatic savings, but you don't see how you could even find $5 a pay period to put aside you'll want to consider finding other ways to save money.
Here's a list of ideas:
1. Sell items at a garage sale.
Read More:  Yard Sale Tips: How I Managed To Make $2565 At My Last Yard Sale!
2. Sell items via Facebook Marketplace and other online portals like Facebook yard sale pages and Craigslist.
3. Set aside any refund money you receive.
4. Comb your budget and cut back anywhere you can so you can put money into savings.
Read More:  101 Creative Ways To Cut Costs When You're Desperate To Save Money
5. Use coupons.
6. Use money saving apps like Ibotta.
Read More:  The Only Money Saving App You Need If You're Too Busy To Cut Coupons
7. When making a purchase online make sure you use Ebates and earn cash back. Each quarter when they send you your check deposit that directly into your savings account.
8. f you have to make a purchase buy discounted gift cards through Gift Card Granny. You can save upwards of 10% or more.
Read More:
9. Make more money by asking your boss for a raise.
10. Make more money by starting a side gig.
Read More:  Can You Make A Living Blogging?
In the end, it doesn't matter what means you use to find money to fund your emergency fund. What is important is that you start today. Go open up a DIGIT account or other vehicle and automate your saving strategies.
MY FAVORITE MONEY-SAVING TOOLS
EBATES: Want to earn cash back when you shop online? Ebates acts as a shopping portal offering coupons and cashback from over 2,000 online stores. I always check on Ebates first whenever I shop online! You can join Ebates for free and get a $10 welcome bonus when you sign up through this link.
DIGIT: Like the idea of saving but need something automatic? Digit is the perfect solution if trying to automate your savings strategy. In essence, what Digit does is use an algorithm to detect spare money and then transfers it to a secure savings account – so you'll always have something to fall back on. Sign up for free!
GROCERY BUDGET MAKEOVER:  Is your grocery budget giving you a serious kick in your families spending plan? Grocery Budget Makeover helped my family slash $6,000 a year from our food bill! Learn more about how Grocery Budget Makeover can help you save money too!