A Mess Free Life may collect a share of sales or other compensation from the links on this page.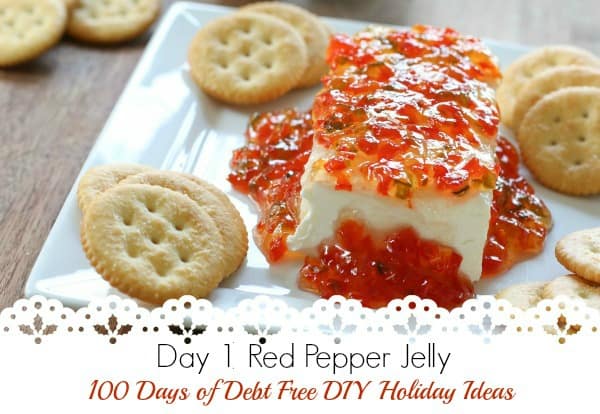 Welcome to Day 51 of 100 Days of Debt Free DIY Holiday Ideas.
Each day we'll bring to you the most cheerful, inspiring and uplifting holiday recipes, decorating ideas, crafts, homemade gift ideas, holiday budgeting tips, and much more that will make sure your holiday is merry and bright without breaking the bank.
Red Pepper Jelly
I'm kicking off Day 51 of  100 days of Debt Free DIY Holiday Ideas with a scrumptious and yummy holiday recipe from Inspired By Charm that will please any crowd!
I'm a huge fan of red pepper jelly. It looks so festive sitting on a plate and the smell invites you to dig in! When I have a holiday party I always make sure to have plenty of red pepper jelly on hand with luscious cream cheese and my favorite crackers.
There are lots of variations on this recipe out there and I think I've tried them all! But something about this particular recipe makes me want to make it again and again.
And not only is the recipe delicious, but this makes a great gift idea too.  Whip up a big batch, jar it, find some fancy ribbon to put at the top and you've got a great housewarming gift, teachers gift or gift to give the neighbors.
If you want to ramp it up a bit, get a festive looking basket and put the jelly, some gourmet crackers, and a block of cream cheese into the basket. Wrap with cellophane and put a big red bow on top. Or you can skip the cellophane and just opt for a nice bow.
No matter who you give it to, they'll be hoping you'll make this again year after year.
If you've never tried red pepper jelly and you like sweet and spicy together, you'll have to try this recipe from Inspired By Charm!  
[et_bloom_inline optin_id=optin_1]