A Mess Free Life may collect a share of sales or other compensation from the links on this page.
How many times a day on Facebook are you been sucked into one of those interactive quizzes that promise to reveal your true personality, who you're soul mate is, or if you'll be a millionaire someday?
We love them! I know I do and if you're anything like me, you love them too!
We are thoroughly obsessed with taking these fun quizzes and seeing the results.
But you know what's even better about them? You can create them and use them as a way to build your email list and I'm going to show you how.
The Benefit of Using Quizzes to Grow Your Email List
We all understand the advantage of an email list. The bigger and more engaged the more potential you have to earn serious cash. But I know that many people struggle with growing their email list.
Well, not anymore.
When you use Interact you not only create engaging and fun interactive quizzes, but you grow your email list at the same time. Here's how:
 Step One:  Choose Your Platform
There are many different companies out there right now that offer quizzes, but I'm going to focus on Interact Quizzes because I've used them myself and find their platform super easy to navigate.
If you're at all technologically challenged and you're afraid that attempting to integrate the quiz with your email system is hard, let me reassure you Interact Quizzes is easy and simple.
The best part of Interact Quizzes is you get two different options:
Personality quizzes (literally so many to chose from!)
Giveaways
No matter what type of experience you're trying to create for your potential reader/customer, Interact has you covered. Oh, did you notice that I mentioned they offer giveaways? I've always been afraid to do a giveaway because I figured it would be time-consuming and super techy and challenging and would make my head spin.
Not anymore!
I haven't used it yet, but it's on my list of things to try.
Step 2:  Choose an Interact Quiz Type
Here is where you have the option to choose from a very broad selection of pre-made quizzes. They have quizzes in several categories and also by type. The three types of quizzes include personality quizzes, assessments and tallied quizzes. You can also filter your quiz selection by category to find the one quiz to meet your specific marketing needs.
The Assessment quiz tests knowledge and is perfect for all those trivia lovers out there. Personality quizzes help identify specific traits and characteristics of a person. These are the ones I love to take and so do many others as well. For tallied quizzes, each answer is scored on a scale. And at the end, your answer scores are tallied, and the result is shown based on your score.
Giveaways
Another option is to do a giveaway. Now, to be totally transparent, I've never done a giveaway with or without Interact but I was playing around with the tool the other day, and it seemed totally simple and straightforward. I'm excited to give this a go with the Interact tool.
Word of caution about giveaways. People love something for nothing and will often join giveaways and then abandon you. The leads are not always the best.
One of the ways to combat this problem is to give away something that your audience really needs and is relevant to your target audience. For example, it would be silly for me to give away a baby stroller when new moms are not my target audience. Just be smart about your giveaway, and you'll gain fans for life.
Step 3:  Create Your Quiz
Now it's time to create your Interact quiz. I'll walk you through some of the steps you'll want to take to create the best possible quiz that will attract email subscribers for you!
There are a wide assortment of done for you templates you can choose from, but if you're feeling ambitious, you can create your own quiz in the quiz builder.
First, choose which type of quiz you want to build. Once you decide it opens up the app so you can begin creating your quiz.
You have your left sidebar which shows you exactly what can be edited for each section.
The first tab is content and the second tab is styles.
In the content tab, you'll see your quiz title, answers, etc. Clicking on each one will then activate the option to edit it in the middle of the screen, or you can click on the main area to edit.
In the sidebar, you can add new questions or new results by clicking the + sign for each one.
In the Styles tab, you can customize color, font, etc.
Finally there's a tab for integration of your email which I'll cover later.
The application has video tutorials that can guide you through the process. Take advantage of them as they are really handy when you're first getting started.
The program has some built-in photo choices you can choose from which will save you money from having to buy any stock photos for your quiz. You can upload your own photos too but make sure you use the proper dimensions which they provide for you.
Questions
Next, you'll formulate your questions for your quiz, add a picture because without a picture it will be boring and most people will lose interest and not complete your quiz.
Add as many answers to your question as you need.
The last thing you'll do in a Scored quiz is to set the will open scores! There's a big blue button in the top right corner and just click that.
A window will open and you can set the score for each one.
Once done, click the blue Save button at the bottom.
Tip:
You can't change the order of the questions. So make sure you know the exact order you want your questions in!
Then you can click Question 2 in the sidebar and repeat this process.
Click "Add Another Question" under Question 2 in the sidebar to keep adding questions. Just know it's best not to make it a super long quiz. Try to stick to about 12 questions max.
Results
Ok, so now that your quiz is compiled, it's time to let people know how they did in the results section!
Click on Result 1 in the sidebar.
Add the Result Title, Result Image just like you did when formulating your quiz.


And a short description of what the result means. Link to your site or another call to action page to keep visitors engaged. Set the range for the results to let people see their score!


You'll then repeat this process for each result you have.
Preview
You can preview your quiz by clicking the blue button to make sure everything looks good before you hit publish.
Step 4: Integrate Your Quiz
While there's a free plan with unlimited quizzes, it's only $29/month to get lead generation.
What this means is that after the quiz taker has finished the quiz (and before they see their results), they'll be prompted to give their contact info and email address. Those email address will then land in your email system and become part of your list.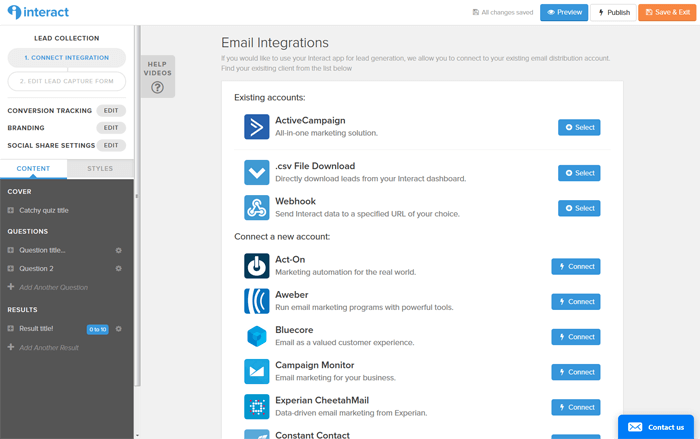 Two additional features:   you can create follow-up sequences (like automations) for each result and cater the content in the email based on the specific results they get in the quiz, and you can also add custom fields.
Step 5: Publish Your Quiz
So you're happy with your quiz, you've integrated your email marketing provider details, and have an automated sequence lined up for new contacts and now it's time to publish your quiz on the world!
You'll click the grey Publish button and a pop-up will open with methods to embed it.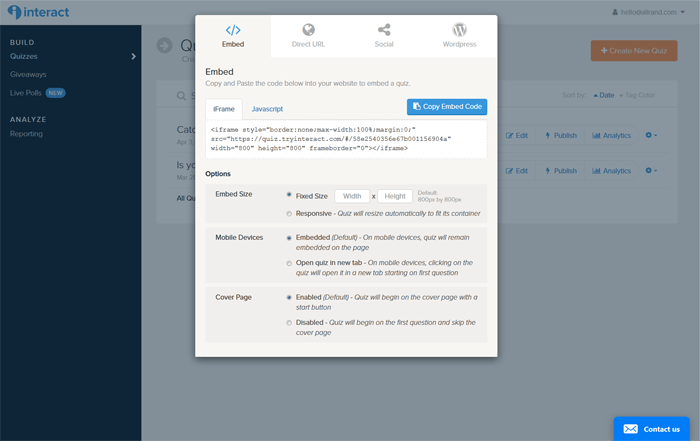 There are 4 methods:
Embed: You'll get the straight code to pop on your website – whether in an iFrame or JavaScript code. You can also customize the options below that will be reflected in the code above.
Direct URL: You can give out this URL, which is the direct URL of your quiz.
Social: You can share your quiz with any of the four social media networks by clicking the button.
WordPress: And if you plan on using quizzes in WordPress, you can install their WordPress plugin to make it easier with shortcodes.
Step 6: Analyze Your Quiz
Go to your dashboard and start seeing the results pour in!
You can see the social sharing statistics and can download your leads again if there was a problem with your email marketing integration.
You can track multiple quizzes at the same time and see your top performers.
Conclusion
Now you know how to use fun and easy Interact quizzes to grow your email list! Go ahead and head over to Interact and make your own quiz and see how much fun list building can be when you use quizzes to grow your email list.