A Mess Free Life may collect a share of sales or other compensation from the links on this page.
Each week, almost without fail, I receive a comment or question from a reader who says she's desperate to save money but doesn't think she can cut corners any more than she has.  She wants to know how to cut costs to save money.  She wants to know my suggestions on how to save so she can pay off debt and live more comfortably.
Of course, these are awesome goals to aspire to and I can relate because I know what it's like to feel desperate to save money and pay off debt.
I've written a few posts on some of the ways I saved money when getting out of debt, but I thought I'd create a list that included some "out of the box" strategies to save that just might help you on your quest to save a buck or two.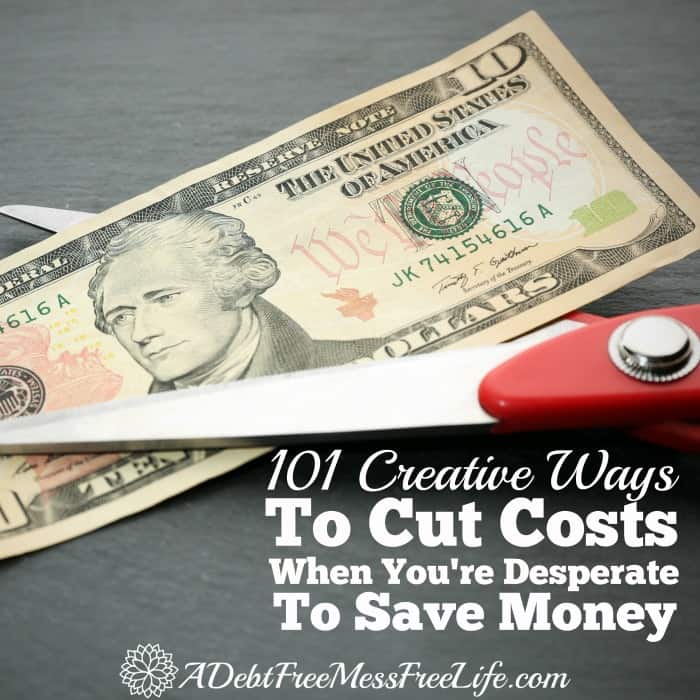 How To Cut Costs To Save Money 
First, how to cut costs to save money requires a two-pronged approach. First is the practical ways to save money. The changes in habits and spending that will help you to reduce your overall costs so you can find money in your budget to pay off your debt.
But there is also the psychological approach, the one in which you have to change your thinking so you can see other possibilities that were previously obstructed from your view.
From my personal experience, the second is the more complicated and the one that will give you the most difficulty as you continue down the road to saving. But let's start out with the easier list – the ways you can cut costs in your home.
But let's start out with the easier list:  How To Cut Costs To Save Money In Your Life
  Don't buy paper towels – Purchase dishcloths and use them instead.
  Don't buy napkins – Use cloth.
  Ditch the gym membership and walk outside, lift weights at home.
  Do your own yard work.
  Pack your own lunch.
  Cut cable.
  Meal plan – religiously.
  Google "repairs" before you call a professional. If you think you can do it yourself, do so.
  Cut coupons.
  Eat in.
  Stockpile.
  Turn down the thermostat in winter.
  Turn up the thermostat in summer.
  Take advantage of free tickets available at the library.
  Meal plan from sale items.
  Make your own laundry detergent.
  Walk to work.
  Ride a bike to work.
  Toy swap with other moms.
  Eat at least one meatless meal a week.
  Stop eating out.
  Stop buying coffee out.
  Ditch processed food.
  Switch to cloth diapers.
  Ditch baby wipes.
  Don't buy books, go to the library instead.
  Make your own soap.
  Carpool.
  Start a garden.
  Raise your own chickens.
  Wash clothes in cold water.
  Line dry your clothes.
  Make your own fabric softener.
  Air dry dishes.
  Use the reverse button on a ceiling fan to push warm air towards the surface.
  Unplug electric items when not in use.
  Don't preheat oven unless baking.
  Use correct burner size when cooking so you're not wasting energy.
  Weather strip around doors.
  Turn hot water tank off or reduce thermostat on the tank.
  Make own foaming hand soap.
  Cut your family's hair.
  Do your own colors.
  Do your own pedicures.
  Do your own manicures.
  Do your own dry cleaning.
  Stop buying clothes that need dry cleaning.
  Make your own bread.
  Reuse Ziploc bags.
  Ditch magazine subscriptions.
  Ditch newspaper subscriptions.
  Cancel online subscriptions.
  Stop buying bottled water.
  If you eat out, order water only.
  Put a brick or two in the tank of  your toilet to save water.
  Make your own dog treats.
  Quit smoking.
  Quit drinking.
  Make your own household cleaners.
  Repair clothing instead of tossing.
  Install CFLs or LEDs wherever it makes sense.
  Shop yard sales and thrift stores when you NEED something.
  Install a programmable thermostat.
  Price shop.
  Look for a cheaper place to live/downsize.
  Invest in a deep freezer.
  Take public transportation and leave your car at home.
  Get a cheaper cell phone plan.
  Make sure you're maximizing all the benefits your company offers you.
  That goes for your insurance carriers too (home, life, auto, medical).
  Ask for fees to be waived any time they show up.
  Get on the automatic repayment plan for any student loans you have.
  Cut down or eliminate vacation spending until you are out of debt.
**Want to know some money-making secrets? Check out our quick guide here!**
And now for the mindset strategies that will help you cut costs to save money
81. Learn the difference between wants and needs.
82. Avoid instant gratification – wait 30 days between when you decide you want something and you actually make the purchase.
83. Write a list before going shopping and stick to it.
84. Quit using credit cards – in fact cut them up!
85. Avoid spending money when you feel stressed, unhappy, bored, lonely, etc.
86. Get the whole family involved with saving money and getting out of debt.
87. Create a visual reminder of your debt and each month look it over and congratulate yourself for your accomplishments.
88. Ask for help when you need it.
89. Establish your plan for paying off debt and stick to it.
90. When you're feeling down and need inspiration go online and find some.
91. Find alternative ways to make yourself feel better other than spending money.
92. Don't beat yourself up when you make a mistake – and you will make mistakes.
93. Create a monthly spending plan every single month.
94. Save monthly, even if it's only $5.
95. Use cash only.
96. Stop trying to keep up with the Jones'.
97. Learn to be thankful for what you do have.
98. Adopt a simpler lifestyle.
99. Learn to say no.
100. Always look ahead.
101. Never give up.
Related Content: adebtfreestressfreelife.com/wants-vs-needs-and-how-to-tell-the-difference – know which is which!
Are there others? Probably, but this is a great list to help anyone who's struggling with ways to save money. Do some, do all, either way, you'll see a drastic saving and more money you can put towards paying off debt, funding your retirement, or building your savings account!
**Want an easy way to avoid spending money? Check out our detailed guide here!**