A Mess Free Life may collect a share of sales or other compensation from the links on this page.
One of the biggest questions:  "What's the correct way to clean floors?" It seems everyone wants to know what the best method is for tile, wood, ceramic, laminate, and vinyl that won't destroy the surface. But they also want to know the quickest and easiest method to clean floors because everyone just loves to spend all day cleaning, right?
Not this gal and I bet you're like me and want to get the job done right the first time!
For this post, we're going to focus on hardwood, laminate, vinyl,  tile and grout.
The Best Way To Clean Floors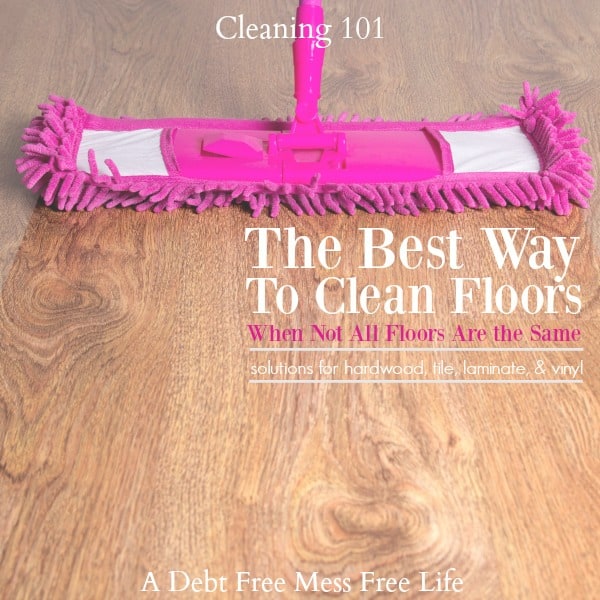 The trick to super duper clean floors is to make sure the surface is free of debris. I know that most people sweep their floors before washing, but I don't particularly like this method because sweeping typically doesn't pick up all the crumbs and dust completely from the floor. Instead, I like to vacuum my floor before washing. I feel it does a far superior job than sweeping in picking up the particles and making sure all pet hair is off the floor.
My favorite vacuum hands down is the Sears Kenmore Progressive Elite. Its ease of use coupled with the terrific suction, makes this hands down the best vacuum out there.
Next, I'll show you how to clean your floors the right way as not all floors should be cared for in the same manner. Not using the proper procedure could damage the floor and result in costly replacement.
Before we start we that, go and get your floor cleaning checklist in the Free Resource Library! 
Don't have the access code?
Sign up below and I'll send it to you right away! And, come back often because I add to it all the time.
Hardwood Floors:
With wood, the secret is knowing that the floors are sealed and what they are sealed with. Knowing how they are sealed will dictate how to clean them. But if they are sealed, less water is the best, so I never wash them with a steam mop or water and bucket method. Instead, what's best for these types of floors is a refillable or microfiber mop like the Bona. While many people love the ease of a steam mop, it's not recommended for hardwood floors. If you don't have a refillable or microfiber mop, a damp microfiber mop will work too. Just use a spray floor cleaner and spray and wipe as you go.
Unfinished or Bamboo Floors:
If you have unfinished, waxed, or bamboo hardwood floors, the best approach is to use a barely damp (with water) microfiber mop pad. Always check with your manufacturer's instructions first.
If there are scratches that stand out after cleaning the hardwood floor, simply take a crayon the color of the floor and rub it on the scratch to fill the gap. Turn a blow dryer on high, heat the area where the crayon was applied and buff it with a soft cloth.
Another great way to cover small scratches in hardwood is using Rejuvenate twice a year. I always did this to my hardwood floors in spring and fall and my floors looked fantastic. 
Laminate Flooring:
One of the biggest issues with laminate flooring is that commercial cleaners leave behind a sticky residue that makes the floor dirtier and dirtier because it attracts dirt and dust back onto the floor. For cleaning, laminate use my simple DIY cleaning recipe. Just mix equal parts of white vinegar, rubbing alcohol, water and several drops of your favorite essential oil like thieves, or peppermint. Five ounces of each of the three ingredients with five drops of essential oil will fill an average size spray bottle or refillable mop.
Laminate and water don't mix so you'll want to use this in a spray format instead of mop and bucket.
Enjoying this cleaning article? Here are more you might enjoy!
Top Ten Spring Cleaning Tips from A Professional House Cleaner
How To Speed Clean The Kitchen When You Only Have 15 Minutes
My Super Simple Laundry System
Learn To Love Cleaning When You Suck At Cleaning
One Professional Cleaning Trick That Will Keep Your Shower and Tub Clean For Six Months
Vinyl Flooring:
Almost any commercial product will clean vinyl flooring effectively. The key is to use a system that removes all the dirty as opposed to just moving dirty water around your floor. If you don't, over time dirt can settle into the crevices in the floor and make the floor look dull and dirty. If your floor is already at this point, use the Mr. Clean Magic Eraser Mop to get the floor super clean and then keep using it regularly. It will make your vinyl look practically brand new.
Ceramic-tile floors can be cleaned easily with nothing but warm water. Never use a sponge mop to clean ceramic tile floors. It will pull the dirt right into the grout tracks. This makes the floor harder to clean over time. A micro-fiber mop picks up all the dirt that a sponge mop leaves behind.
Deep Cleaning Tile and Grout Floors:
It doesn't take long before grout in between tile can show dirt and wear especially when it is in high traffic zones like kitchens, entryways, and mudrooms. There are several different approaches that you can take to deep clean both your tile and grout.
Here are two of my favorite cleaning methods for tile and grout:
a) Use a
portable steam cleaner
and with the small nozzle attachment and then let the machine do its magic and steam those grout lines and tile. The dirt just comes right off. No solution needed. You may be able to use a steam mop as well but not if it's super dirty.
b)  My second favorite cleaning method is mixing 
7 cups water, 1/2 cup baking soda, 1/3 cup lemon juice and 1/4 cup vinegar. Spray the concoction onto the dirty grout, let sit for 5-10 minutes, and scrub with a brush. Sparkling grout awaits.
How to Handle Streaks and Residue:
Here are a few tips to manage streaks and residue on floors. If you are using a microfiber pad, make sure to dampen it before starting and rinse often when washing the floors. If you have streaks with a steam mop and cleaning the mop head frequently doesn't solve the problem, you might need to use distilled water (purchase by the gallon at your local grocery or drug store). If you have hard water, the minerals in your water may be contributing to streaking and residue on your floors.
Cleaners:
When it comes to what brand or formulation of floor cleaner I recommend, I would have to say you should try out a few and find the one you like best. Some people love making their own cleaners while others prefer the pre-mixed, ready to go options.
Using the proper method depending on the type of floor you're cleaning is so important. The last thing you want to do is to damage your clean floor and have to embark on costly repairs because you used the wrong products or methods. Using these tips and strategies will ensure your floors are clean and well maintained all year long.
Any special products you love to use to clean your floors? I'd love to hear about it. Let me know!