A Mess Free Life may collect a share of sales or other compensation from the links on this page.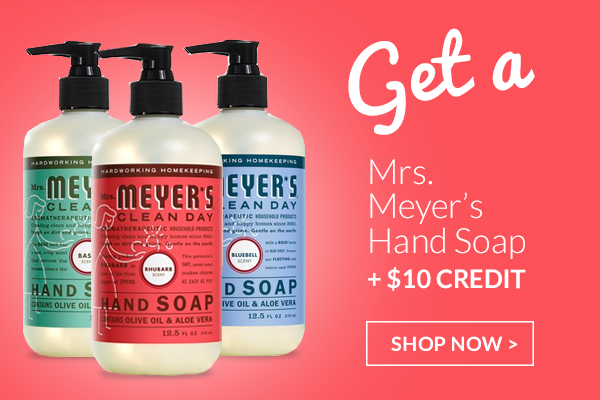 I love this time of year!
Not only does the fall mean cooler weather, apple picking and pumpkins, it also means my birthday (9/15) AND the perfect excuse to tackle those BIG fall cleaning projects! As someone who owns a professional cleaning company,  it's no secret I like to clean things and I like things clean. 
I'm also a big believer in all-natural cleaning products! I've been using all natural cleaning products for many years, pretty much since they came out. I like knowing I'm cutting down on my exposure to harsh chemicals by using green and friendly cleaning products. And while I'm ashamed to admit I don't use them exclusively in my business, I do use them all the time in my own home.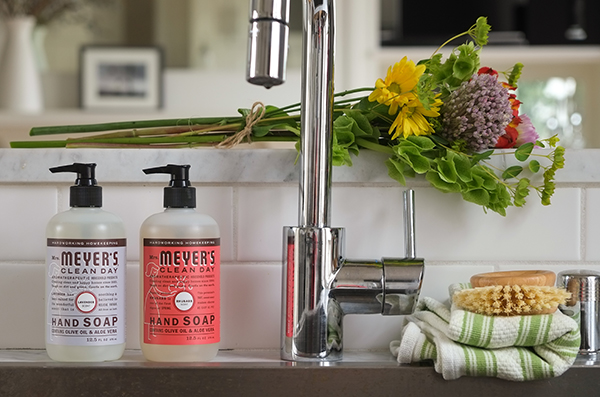 One of my very favorite brands is Mrs. Meyer's. The scents are amazing! (Lemon Verbena is my all time FAV!) but I know you'll find a scent you'll love too!
Thus, in honor of fall cleaning season AND my birthday, I am super excited to partner with ePantry and offer all A Debt Free Stress Free Life readers a Free Mrs. Meyer's Hand Soap, $10 Product Credit, and free shipping for first-time orders!
PLEASE NOTE THAT THIS OFFER ENDS at 11:59PM EST on SEPTEMBER 15, 2015.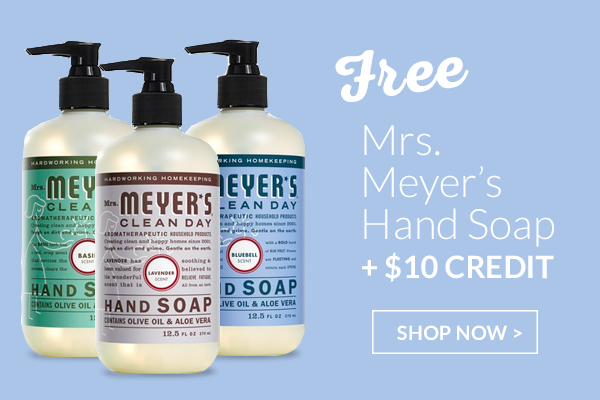 So what is ePantry? ePantry is one of my new, favorite, convenient, eco-friendly, all natural subscriptions services. It's similar to Amazon Subscribe & Save (which I also love – I never run out of my coconut oil!), but for all natural cleaning and personal care products. All of ePantry's products are made by eco brands: Method, Mrs. Meyer's, Seventh Generation, Tom's and more!
I got my first order a few days ago, and I've been super impressed. I originally discovered the service through my friend Crystal, and have loved the convenience of having my favorite products shipped right to my front door. It seems the busier I get, the less I want to hassle with shopping in-store – ePantry does that for me. In addition, you can use ePantry to plan months ahead, saving you time and money! You just sign up, answer a few questions, and then create the perfect order schedule for your own needs. 
How to Get This Special Offer:
Sign upHERE. You'll get a $10 product credit PLUS a free bottle of Mrs. Myers hand soap PLUS free shipping on your first order.
Answer a few easy questions (this takes a few minutes at the most!) ePantry uses your answers to get a feel for what you like & to suggest products for future shipments.
Customize your basket! Try some new products and old favorites. You can add or remove as many products as you like.
Bring your total to $20. Including the free hand soap and $10 off, your final total must come to at least $20. The minimum is for first-time orders only.
Finish & Pay. Once you have filled your basket, click Finish & Pay. Your free hand soap and $10 credit will already be included.
PLEASE NOTE THAT THIS OFFER ENDS at 11:59PM EST on SEPTEMBER 15, 2015!
EXAMPLE BASKET: I personally think the best value is on the Mrs. Myers and Method cleaning products. I have put together an example basket to show you how to stock up and get each product for less than $2.50 apiece. (All of them normally retail in the $5-7 range with or without a coupon!)
(3) Mrs. Meyer's Hand Soap (1 will be free)
(2) Mrs. Meyer's Dish Soap
(1) Method Daily Shower Spray
(1) Method Daily Wood Cleaner (love, love, love the smell of this stuff!)
(2) Mrs. Meyers Multi-Surface Cleaner
With your $10 A Debt Free Stress Free Life's credit and free hand soap, the total for this basket comes to just $21.36, which is pretty amazing for $50+ worth of products!

NOTE: Just like Amazon's Subscribe & Save program, if you want to continue receiving shipments, you can choose when you want to receive your next shipment and what you want to receive. You'll receive an email 7 days before your next shipment is supposed to go out and you can go in and adjust your order or choose to cancel your subscription.
Refer friends and family, get $10 off! On top of everything else, If you refer friends and family to ePantry, each person you refer will get $10 in credit for their first order! And, more good news! You will also receive $10 in credit for each person who checks out. It's a win-win!
To top it all off, ePantry has fabulous customer service! They even offer an extra $2 off if you answer the question in the chat box.
So what are you waiting for? Go ahead and try it out for yourself!